Plumbwell Plumbing Services
Top Rated Local Plumber in Marrickville
If you're looking for a professional
plumber in the Inner West
 and you're not sure who to call,
get in touch with Sam and the team
from Plumbwell Plumbing Services today.
Excellent
5.0
★
★
★
★
★
Based on 145 reviews from
review us on
Roberto Nungaray
★★★★★
Sam and his team have provided a very professional service. Going above and beyond. I would definetively use them again for future plumbing needs or projects.
Harper Y
★★★★★
Sam, Charlie and Eli are all very professional and helpful. Their solutions are tailored to my needs (not just offering the most expensive solution) and they helped me fix arising problems even if they are not within their original scopes. Quotes are fast, communicate is great and polite, and time arrangement is flexible. Highly recommend!
Rhonda Griffin
★★★★★
Plumbwell were very responsive and efficient, right through from the quoting of the job to booking and completion. Charlie was very polite, helpful and skilled. He left the area looking like new. I would highly recommend.
Anna Pha
★★★★★
Punctual, efficient, cheerful service. Highly recommended.
Daniel Karaconji
★★★★★
Sam and the team are professional and reliable. Would definitely recommend.
What You Can Expect from the Marrickville Plumbers
Our team of local Sydney Inner West Plumbers specialise in all areas of plumbing and gas work, with extensive industry experience.
Whether it's a blocked drain, your hot water system has packed up, or you've got a major leak, Plumbwell Plumbing has the industry tools and experience to get things sorted.
We serve both residential and commercial properties, taking great pride in what we do. While you may have had bad experiences with other plumbing companies, you will find Plumbwell Plumbing to offer fair prices, quality workmanship, and professional service throughout.
If You Have a Plumbing Emergency, Contact Plumbwell Plumbing Services
One of our team will be on hand to help resolve your problem with expert plumbers ready and waiting to be dispatched to your home or business.
Explore Our Plumbing Services & Solutions
What Can We Help You With?
Plumbing in Marrickville
Plumbwell Plumbing can help with all general plumbing for both residential and commercial customers within the Sydney's Inner West. From changing tap washes to un clogging toilets we can do it all.
Blocked Drains in Marrickville
Plumbwell Plumbing knows what todo when it it comes to blocked drains in Marrickville. Whether you've got a blocked sewer line, blocked shower blocked stormwater drain, or blocked sinks, we know how to get things flowing again.
Drain Repairs & Pipe Relining in Marrickville
In cases where pipework has become damaged we have a range of different repair options. This includes our relining solution that uses the latest plumbing innovations to effectively replace pipes without digging or removing flooring.
Hot Water Plumbing in Marrickville
Plumbwell Plumbing are Marrickville hot water plumbing experts with our team able to repair and install all kinds of systems. If you find yourself without hot water or you're looking to revamp your existing system with natural gas, solar, or electricity, we can help.
Gas Plumbing in Marrickville
The Plumbwell Plumbing team are fully licensed gas plumbers in Marrickville and are qualified to conduct all kinds of gas work. Should you have an issue with your existing system or if you're interested in having natural gas in your home, we are specialists who can carry out this work safely.
Plumbwell Plumbing Offers
Emergency Plumbing Services Throughout Marrickville & Inner West Sydney
We believe serving your local community is an honour and as such offer our emergency plumbing service across the whole of Sydney.
The Plumbwell Plumbing team knows how stressful a blocked drain, overflowing toilet, or lack of hot water can be and how dangerous anything gas plumbing related is. We, therefore, get to our customers quickly, fixing problems quickly and without fuss.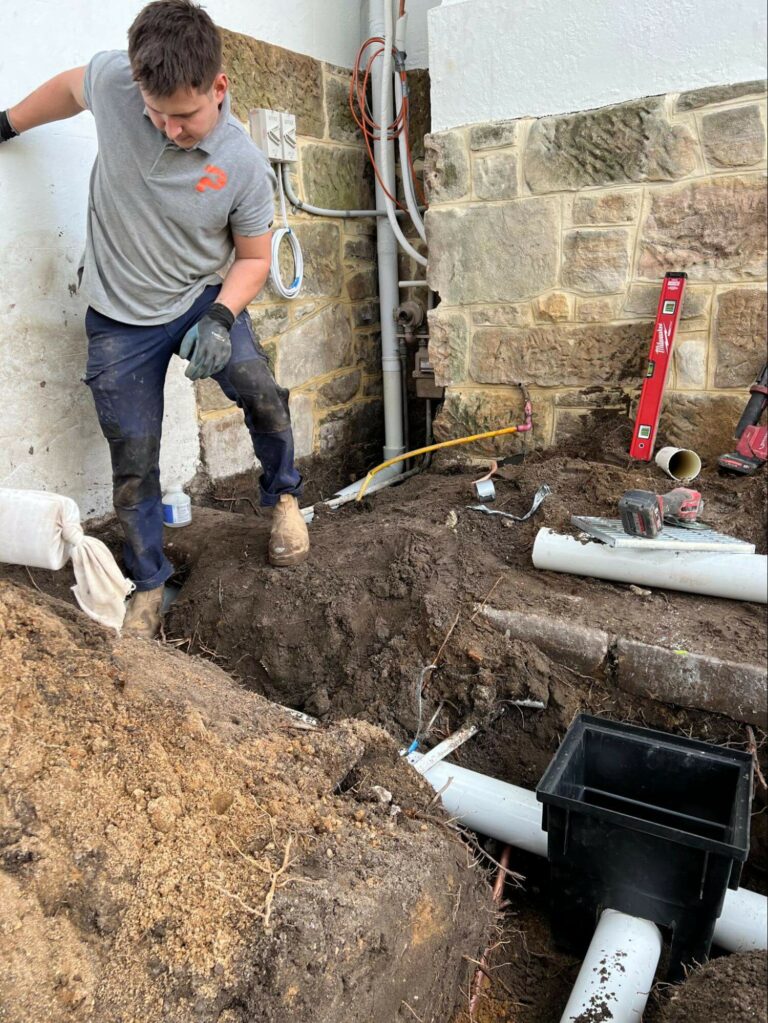 Looking for a Plumber Near Me? Located in Marrickville, We Are Your Local PLumbers!
If you need a plumber in Sydney, call Plumbwell Plumbing now on (02) 9064 2861. One of our friendly and professional team members is always ready to take your call and solve your plumbing problem.
Areas in Sydney that Plumbwell Serve
Plumbwell Plumbing is proud to serve the families and business of Sydney, including the following areas.
Plumbwell Plumbing Services Process
With plenty of experience to our name, Plumbwell Plumbing's process is streamlined to make it as easy as possible for our customers.
Phone Plumbwell to discuss your plumbing needs
The quickest way for Plumbwell Plumbing to help with your plumbing needs is to give us a call on (02) 9064 2861. With our 24/7 emergency plumbing service in constant operation, someone is available any time of the day.
One of our experienced plumbers will be sent within the allocated time
After calling, one of our team will call round to your property at an arranged time that is suitable for you.
Our plumbers conduct a thorough inspection of the plumbing issue
We will be able to diagnose and advise on the issues in no time. To help us accurately determine problems, we use modern plumbing technology such as remote drainage CCTV that helps locate problems quicker and easier.
Share the findings and discuss options obligation-free
After determining the problem or evaluating an installation, we will then share with you our findings. We will provide an upfront quote at this point so you can decide whether or not to proceed with the work. This quote is obligation-free with our competitive pricing speaking for itself.
Commence plumbing works to resolve the issue at hand
If you're happy to proceed, we will then begin resolving your plumbing problem immediately if possible. In the case of refits and installations, we will arrange a suitable day to begin work at a time that suits you.
Resolve the plumbing problem and inform customer of the issues
Once complete, we then conduct a series of quality assurance checks on our work. This is to ensure any issues have been truly resolved and our workmanship meets our high standards. We will then discuss with you any further information that could help prevent problems from reoccurring.
Recent Projects From Around Sydney's Inner West
If you need a plumber in Sydney, call Plumbwell Plumbing now on (02) 9064 2861. One of our friendly and professional Marrickville plumbing team members is always ready to take your call and solve your plumbing problem.
Inner West
What The Client Was After Nestled in the heart of Stanmore is a charming residence that stands as a testament to the architectural grandeur of over 90 years
Read More »
Inner West
The act of relocating a gas meter involves moving it to a new location. It involves complex procedures that, for your safety, should be carried out by a
Read More »
Inner West
What the Client Was After The client, who resided in one of Sydney's older suburbs, had an older property that had not been renovated for many decades. As
Read More »
Searching for 'Plumber Near Me?' Contact Plumbwell Now